Women in Orthopaedics
Interview with Susan Liew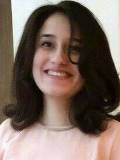 Ratna Johari SICOT Associate Member & SICOT Young Surgeons Committee Member – Mumbai, India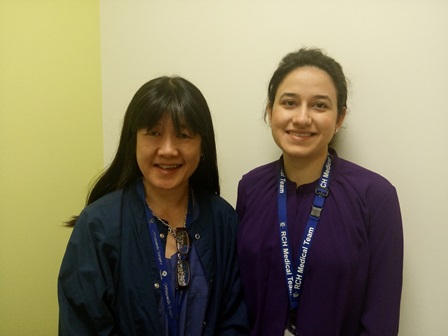 Susan Liew & Ratna Johari
For our "Women in Orthopaedics" section in this e-Newsletter, I have the honour of profiling the coolest lady in the vocation of mending bones, Dr Susan Liew.
Dr Liew has been in clinical practice as an orthopaedic surgeon with a special interest in spine surgery since 1997 in Melbourne, Australia. She is a VMO at The Royal Children's Hospital as a member of the Scoliosis/Spinal Deformity Service. She has also been the Director of Orthopaedic Surgery at The Alfred since August 2007 and, prior to that, Director of Orthopaedic Surgery at Austin Health from 2003-2007, both of which are known to be extremely busy and demanding centres.
Sue has a strong interest in teaching and training having been Chairman of the Victorian & Tasmanian Regional Training programme for the Australian Orthopaedic Association from 2006-2007.
Her contributions have been recognised via an AOA (Australian Orthopaedic Association) Leadership Award in 2007 and having won the state award for excellence in teaching in 2008 and 2009.
She is currently an examiner in Orthopaedic Surgery for the Royal Australasian College of Surgeons.
She is active in teaching medical students and is an Adjunct Assoc. Professor with the Faculty of Health Sciences at Monash University. She has also been invited to sit on a number of state government committees, the most recent being the Ministerial Advisory Committee for Surgical Services.
She also happens to be a mother of four, amongst other things!!
Below are some excerpts from our conversation:
Please describe your current roles and responsibilities.
I don't have a private practice by choice. I work one day a week as a visiting medical officer at the Royal Children's where I'm part of the spine service doing scoliosis surgery. I also do adult spine surgery of all types at The Alfred (a level I major trauma hospital). I still do some (a limited range of what I like to do!) general trauma & elective orthopaedic surgery. I am also the Director of Orthopaedic Surgery there.
How did you come about choosing medicine and orthopaedics in particular?
I finished medicine because I didn't want to change courses again! I started in Engineering but I deferred halfway through 1st year because it wasn't the institution I wanted to go to (having been convinced by my previous secondary school headmistress that I had to go the Melbourne University & nowhere else) so it didn't quite have the focus I wanted. Plus, at that age (18/19) I'm not sure many people really know what they want to do or are getting themselves in for! I then did medicine because I could…! I didn't particularly like medicine for the first few years but once I started the clinical rotations and a bit of surgical experience I knew I could find something I liked. I also discovered that I wasn't particularly interested in (internal) medicine. During my orthopaedic rotation as a medical student I suspected this might be a specialty I would like to do and this feeling was confirmed after I had got a look at most of the surgical specialties as a 2nd & 3rd year doctor.
Who influenced you along the way and what did the important people in your life think about your decision to train in orthopaedics?
I studied under and worked for many marvellous surgeons – I so admired the way they thought – the surgical reasoning. I also remember the sheer beauty of watching operations executed by surgeons gifted with what seemed like perfect manual dexterity and economy of movement. It never occurred to me and no-one ever said to me "you can't do it" – although one physician who I worked for as an intern tried to convince me rheumatology was a pretty good speciailty while gently saying "the market forces may be against you (in surgery)"...which, of course, when I did decide to pursue orthopaedic surgery, just seemed like a good challenge to take on!
My husband (who I met while working in a chemical factory in the holidays while doing medicine) and I have supported each other 100% in our respective careers (he is an electrochemist). We graduated and started working in the same year and our careers have had amazing parallels – no doubt it's provided a great common ground.
Did you ever feel you were at a disadvantage in this field because of your gender?
No. As the Australian saying goes there are lots of different ways to skin a cat... And as a fellow Fellow from Louisiana (when I was in the the US doing a spine fellowship) used to say that would be "narrow Western thinking"!
What were the biggest hurdles of your career?
Depends where you are looking from... before I got them – the Part I exam, orthopaedic selection, the Part II exam. Afterwards they didn't seem so big after all.
What are the obstacles that prevent women from dreaming big?
Themselves! Don't look for obstacles that are not there!
How do you manage your hectic schedule as a surgeon and a homemaker?
The short answer is be organised but the real answer is very badly sometimes! And you can't even do that yourself! I couldn't have managed at all when my 4 kids were younger without the help of my parents, all the way through and now without my husband, and especially when I was just starting out (and even today) without the support of colleagues. You need to realise sometimes that you can't have it all and you can't do it all, so be kind to yourself! Sometimes it is hard to prioritise and sometimes it is hard to do something not quite as well as you would like but learning to say "that's ok" means you can sleep at night knowing you have done the best you could.
What is your advice to the younger females who are interested in joining, or have already joined, the profession?
Be yourself (your passion will show), enjoy the learning (I still am…), and relish the challenge as a person (not just as a female)!