Report on the Würzburg SICOT Orthopaedic Fellowship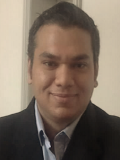 Tarek Fetih
SICOT Associate Member – Assiut, Egypt
I am glad to report about my successful completion of the Würzburg SICOT Orthopaedic Fellowship. I have to say it was a unique experience in my career. I had the chance to spend six months (from May to October 2014) in the Orthopädische Klinik im König-Ludwig-Haus, Würzburg, Germany, where I could monitor and participate in the everyday work at one of the top rated arthroplasty centres under the kind supervision of Prof Maximilian Rudert. A large part of my interest was also focused on foot and ankle surgeries and I could work extensively with Dr Matthias Walcher.
Owing to this fellowship, I have attended a large number of arthroplasty surgeries including primary hip, knee and shoulder replacement in addition to one- and two-stage revisions. The hospital is classified as a maximum-care centre for arthroplasty surgeries, occupying first place all over Germany in revision joint replacement and dealing even with the most difficult revision situations.
In the spectrum of foot and ankle surgeries I have participated in foot and ankle trauma surgeries, ankle cartilage reconstruction surgeries, formal and arthroscopic-assisted ankle fusion, primary and revision ankle replacements, hindfoot osteotomies, peroneal and posterior tibial tendons surgeries, arthroscopic treatment of anterior and posterior ankle impingement, Achilles tendon surgeries, diabetic foot surgeries and hallux surgeries.
The most frequent and distinguished foot and ankle surgery done in the hospital is the articular surface reconstruction for osteochondral lesions of the medial talar dome, where ankle arthroscopy is done first to inspect the joint, evaluate the lesion and prepare the crater. Then, the defect is approached via a medial malleolar osteotomy and the articular surface is restored by collagen membrane fixed with fibrin glue. I also enjoyed the arthroscopic-assisted ankle fusion for non-deformed arthritic joints which saves the patient the relatively large incision of the open technique and allows almost complete preparation of the fusion surfaces and, by the addition of three percutaneous compression screws, a very high union rate can be guaranteed.
Being a fellow in this hospital gives you also the chance to keep in close contact with the patient management in a wide variety of other orthopaedic subspecialties such as sports injuries of the knee and shoulder, paediatric orthopaedics and spine.
I also had the opportunity to attend the weekly morning meeting to discuss the operative lists for the entire week, in addition to attending some anatomic dissection sessions at the university lab. I found both to be great occasions for rich scientific interaction.
At König-Ludwig-Haus, all the doctors and other staff members were very kind to me and very cooperative. Now I can understand the guidelines for management of orthopaedic patients according to the German standards. The operative theatre system, instruments and infrastructure at the hospital will definitely influence my future practice of orthopaedic surgery.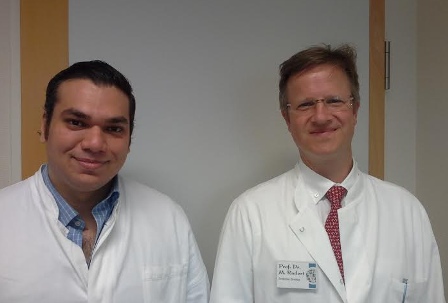 Dr Tarek Fetih and Prof Maximilian Rudert
Prof Rudert was the perfect host to me and took care of making my stay ideal. He is a very generous man, as well as a talented and highly experienced surgeon, who always greeted us with a smile on his face.
I would like to thank SICOT for the opportunity to learn from a highly qualified surgical team and enjoy the amazing city of Würzburg.