'SICOT meets SICOT' fellowship report from Székesfehérvár, Hungary
Udo E. Anyaehie
SICOT Associate Member – Enugu, Nigeria
I had applied twice for the 'SICOT meets SICOT' fellowship programme without success so I was enthralled after my third application when I received an email from SICOT saying I had been accepted for the SICOT fellowship for 2013. At first I thought it was a dream but then there I was reading this awesome dream come true. The St. George University Teaching Hospital in Székesfehérvár, Hungary, graciously accepted to have me under the Head of Department of Orthopaedics, Prof Laszlo Bucsi, for one month. I arrived in Budapest on 22 October 2013 and was brought from the airport to comfortable accommodation provided by the hospital management. I was taken to the hospital to have an orientation and was introduced to the staff and the schedule for the department. I was then allowed to go back and rest in preparation for the work ahead.
Each day started with a review of cases done the previous day as well as discussion on the cases for the day. I had daily theatre sessions concentrating mainly on primary arthroplasty, revision arthroplasty and arthroscopic surgeries because I was scheduled based on my areas of interest. The surgeons were gracious enough to allow me to scrub in as first assistant in almost all the cases and they put me through their own procedural processes. We were able to discuss cases, exchange ideas and the Head of Department, Prof Bucsi, took me through his lecture series and gave me access to journals and books. I had access to the hospital computer so I could review X-rays of patients and cases done and I learnt and understudied a whole lot that will benefit the hospital and the people where I come from, Nigeria. I had the opportunity to attend with him, Dr Ferenc Dobos and Dr Gábor Szabo a consensus meeting on Periprosthetic Joint Infection hosted by the Hungarian Orthopaedic Association at Szolnok. I also visited the tumour centre in Budapest where Dr Janos Kiss took me through some of the numerous cases they do.
The department had many wonderful and skilled surgeons. I found the Head of Department, Prof Laszlo Bucsi, to be a meticulous surgeon who taught as he worked and was always willing to answer questions. His assistant, Dr Dobos, had a warm and friendly attitude, always throwing around jokes to keep everyone working happily. They had a routine for the perioperative management of arthroplasty patients which all the arthoplasty surgeons used with good results. I also operated with Dr Kovacs Ignac, Dr Gábor Szabo, Dr Horvath Szabolcs and Dr Czifra Attilla, and there was always something to learn from each of them. Working in the sports section with Dr Abkarovics Geza was amazing. I call him a wizard of arthroscopic surgery. I assisted and observed him during some procedures from repairs and reconstructions in the knee to shoulder and ankle arthroscopy to mosaicplasties. He could work around the clock without getting tired. Dr Sándor Mester, the Head of the Trauma Department was always ready to discuss some of his cases with me anytime our paths crossed. I met with Dr Károly Schandl, a PhD student under Prof Bucsi, whose research on albumin coated bone allograft caught my interest as we have a lot of patients back home with non-union and huge bone gaps from the intervention of Traditional Bone Setters.
The Chief nurse, Piroska Graczer, and her staff ensured I had my meals ready and I could not have moved round in their circles without the help of physiotherapist Ildiko Antal whose knowledge of the English language made communication with the nursing staff easier. She also showed me some of their physiotherapy equipments and how they rehabilitate their patients. They were all so dedicated and experienced down to the theatre nurses, and the hard working orderlies and cleaners. The porters at the hostel were ever smiling and welcoming and my room was always cleaned, with the facilities I required being provided to my utmost surprise. Indeed, my stay was very eventful and beautiful, so I had no cause to be homesick.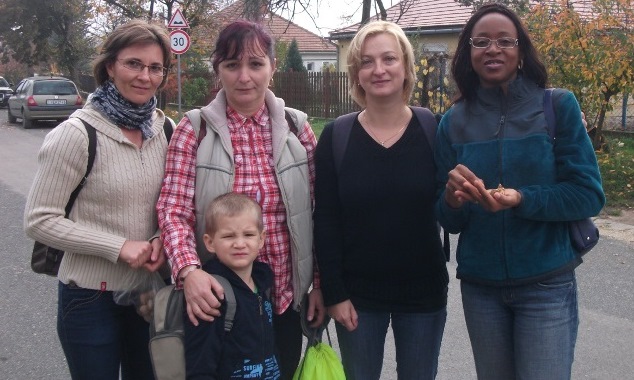 I also had a lot of fun during the weekends. The Head of Department made sure I was taken to different beautiful places and sights. Coming from a tropical country, the weather was very cold but that did not stop me from absorbing the serenity and beauty of the town. I had a great time with Piroska, Ildi, Susan and kids at a picnic in the woods; with Dr Atilla, his wife and friends at the movies; bowling with the trauma doctors and their wives (poor shots from me though); family party with Dr Ignac and family; with Dr Dobos and his lovely daughter at Lake Balaton; and a beautiful walk taking in all the marvelous sites and buildings in Budapest with Prof Bucsi. I must confess that I left on 19 November with a somber heart but with rich memories of Hungary that I will forever cherish.
I am indeed grateful to the staff and management of St. George University Teaching Hospital for making my stay marvelous and unforgettable. Finally, to SICOT, for giving me and many other young surgeons the great and awesome opportunity to learn from other centres and countries, I say a big THANK YOU.