Case of the Month
Stress Fracture of a Hip in an Athlete - Post Treatment Complication and Management
Authors: Mohamed Sukeik, Julia Kao & Amar Ranawat
Hospital for Special Surgery, New York

History

A 37-year-old athletic male underwent an open reduction and internal fixation (ORIF) of his right hip for a stress fracture sustained whilst running the New York Marathon. However, due to non-union of his fracture he underwent revision of the fixation with bone grafting. He presented with persistent pain in the right hip after 18 months from his second operation.
His past medical history included vitamin D deficiency for which he was on vitamin D supplements and he was also on Forteo treatment to enhance bone healing. Past surgical and family histories were insignificant otherwise and he was not a heavy smoker or drinker.
On examination, he was 6 feet tall, weighed 190 lbs with a BMI of 26. He used two crutches for mobilisation and had limited range of movement of the hip due to pain. The right lower limb was neurovascularly intact.
Plain radiographs were performed.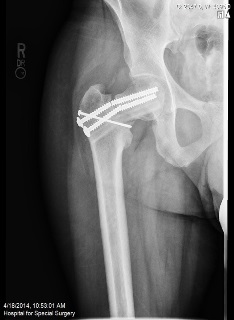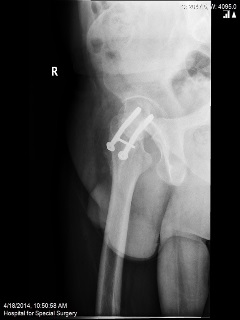 Q. What are your thoughts on the findings of the above radiographs?
---
---
---
---
The radiographs show non-union of the hip fractures.
Q. What is your treatment plan?
Conservative treatment with NWB using crutches awaiting union

Revision ORIF +/- bone grafting

Valgus Osteotomy

Total Hip Replacement
---
---
---
---
Total hip replacement was the treatment of choice for this case taking into consideration the poor bone stock available after removal of the metalwork and high risk of avascular necrosis which would have compromised the outcome of revision ORIF or a valgus osteotomy. This was the consensus at a multi-disciplinary meeting including the trauma surgeon who performed the initial operations, hip preservation surgeons who specialise in various osteotomies, and arthroplasty surgeons.
The following points were also considered whilst planning the procedure:
Although unlikely blood parameters were performed and showed no evidence of underlying infection

Availability of removal instruments

Using a different incision vs. incorporating the previous scar into the new incision

Dislocating 1st before removal of the metalwork

Performing anterior capsulectomy to allow adequate exposure (posterior approach utilized)

Acetabular reaming (normal bone)

Femoral broaching

Sclerotic bone

Distorted canal

Bone quality

Leg length
Postoperative radiographs were satisfactory: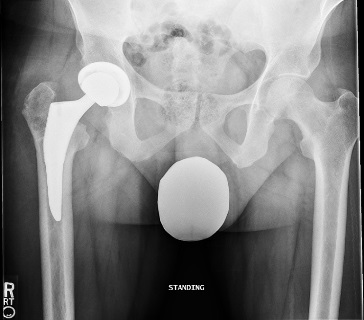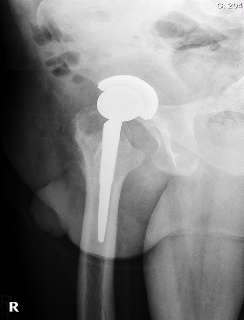 Key points in the management of hip stress fractures in athletes:
It is important to have a low threshold for investigating long-distance runners reporting pain in the lower limb [1].

Early diagnosis and treatment are critical to successful outcome as athletes may have high tolerance for pain and continue performing stressing activities which may result in late presentation of a displaced stress fracture and high risk of avascular necrosis [1].

Women are more likely to sustain a stress fracture which may be related to menstrual dysfunction and hormonal imbalance seen in athletic amenorrhea [2-4].

MRI scan is the investigation of choice when an athlete presents with activity related hip pain and X-rays show no abnormality as stress fractures of the acetabulum have also been reported in this group of patients [2, 5, 6].

Treatment of the stress fracture and complications after fixation depend on multiple factors including the patient's age and physical status, femoral head viability, the amount of femoral neck resorption, and the duration of the non-union and, therefore, should be individualized [1-3, 7].
References
Clough TM. Femoral neck stress fracture: the importance of clinical suspicion and early review. Br J Sports Med. 2002 Aug;36(4):308-9.
Thienpont E, Simon JP. Stress fracture of the acetabulum in a ballet dancer. A case report. Acta Orthop Belg. 2005 Dec;71(6):740-2.
Callahan LR. Stress fractures in women. Clin Sports Med. 2000 Apr;19(2):303-14.
Marcus R, Cann C, Madvig P, Minkoff J, Goddard M, Bayer M, et al. Menstrual function and bone mass in elite women distance runners. Endocrine and metabolic features. Ann Intern Med. 1985 Feb;102(2):158-63.
Grangier C, Garcia J, Howarth NR, May M, Rossier P. Role of MRI in the diagnosis of insufficiency fractures of the sacrum and acetabular roof. Skeletal Radiol. 1997 Sep;26(9):517-24.
Pollet V, Bellemans M, Damry N, Lamoureux J. Stress fracture of the acetabular roof. Case report and value of MRI. Acta Orthop Belg. 1999 Dec;65(4):517-20.
Angelini M, McKee MD, Waddell JP, Haidukewych G, Schemitsch EH. Salvage of failed hip fracture fixation. J Orthop Trauma. 2009 Jul;23(6):471-8.