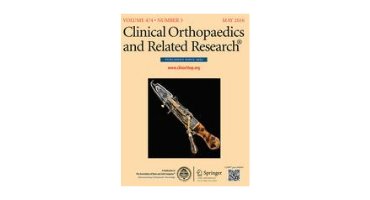 SICOT is pleased to announce that all its members have full-text access to Clinical Orthopaedics and Related Research®. This member benefit is being provided at no charge to members as the result of a collaboration with CORR® and its parent society, the Association of Bone and Joint Surgeons. As you may know, CORR® is a high-impact, general-interest orthopaedic journal, which publishes the latest clinical and basic research. Over the last several years, CORR® has undergone a number of changes, and it now also publishes numerous monthly columns, commentaries, features, and interviews with authors.
Clinical Orthopaedics and Related Research® is a leading peer-reviewed journal devoted to the dissemination of new and important orthopaedic knowledge. CORR® brings readers the latest clinical and basic research, along with columns, commentaries, and interviews with authors. CORR® is an international, well-read, and well-cited journal: last year, CORR® articles were downloaded 460,000 times; over 60% of those downloads came from readers outside North America. Citation metrics put CORR® at or near the top of the list of orthopaedic journals. CORR® publishes content of value to both generalists and specialists on all aspects of musculoskeletal research, diagnoses, and treatment:
Original articles focusing on timely clinical issues.

Research articles highlighting the latest in clinically relevant basic science of musculoskeletal diseases and their treatments.

Monthly "Symposia" devoted to a single topic offering the generalist reader an overview of a field, but providing the specialist current in-depth information.

Regular "Proceedings" issues containing the best research from the most important meetings in the speciality, including The Hip Society, The Knee Society, The Musculoskeletal Tumour Society and The Musculoskeletal Infection Society.

Monthly commentaries, features, and interviews that provide context on the discoveries published in each issue, insight into issues affecting orthopaedic practice, and the opportunity to go "behind the scenes" with the authors whose work is affecting how patients get treated and how science gets done.