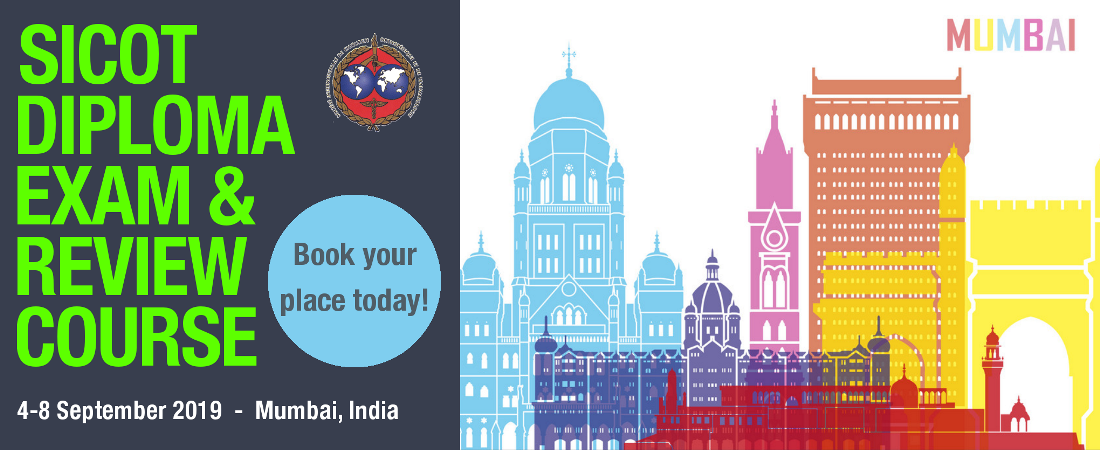 General Information


Date

Time

Fees

Venue

Diploma Examination

4-5 September 2019

To be confirmed

EUR 600

Sir H. N. Reliance Foundation Hospital

Review Course & Current Concepts Update

6-8 September 2019

To be confirmed

To be confirmed

Sir H. N. Reliance Foundation Hospital
The SICOT Diploma Examination & Review Course will take place for the first time in Mumbai (India) on 4-8 September 2019.
The syllabus and format of the Examination will remain exactly the same as the SICOT Diploma Examination held during the SICOT Orthopaedic World Congresses. The Examination will include a two-hour written part consisting of 100 multiple choice questions and a two-hour oral part where each candidate is examined by two examiners in separate slots. The examiners will also be chosen from a panel of experienced international examiners who will travel to Mumbai for the Examination. The fee has been reduced to EUR 600. Click here to download the Syllabus for the SICOT Diploma Examination
More information about the Review Course will be announced shortly.
Eligibility Requirements
The SICOT Diploma Examination is aimed at young orthopaedic surgeons in training. To be eligible, candidates must:
register online using the form below;

provide their CV;

provide a letter from their Head of Department specifying that they have had 4 years of medical practice since obtaining their medical degree and that they are actively engaged in an orthopaedic training programme;

be members of SICOT or in the process of applying for membership at the time of registration and their 2019 membership dues must be paid. For more information about SICOT membership application, please click here;
A judging panel will review all applications and reserves the right to refuse any application.
IMPORTANT: Candidates will only be considered eligible once they have registered online and the SICOT Head Office (exam@sicot.org) has received their CV and Head of Department's letter. Their 2019 membership dues must be paid.
Dates & Deadlines
Registration opens on 23 May 2019.
Application and registration deadline: 21 June 2019
Notification of selection: 30 June 2019
Exam Registration Fee
The exam registration fee is EUR 600 for all registrants.
Payment
The eligible candidates will be asked to pay the registration fee at a later date after selection.
Contact
For more information about the SICOT Diploma Examination, please send an e-mail to exam@sicot.org.

SICOT Diploma Examination - Registration Form